Careers at Plasco ID

Plasco ID offers a great platform for your professional growth and taking your career to the next level. Join our fast-growing entrepreneurial company – start by reviewing careers at Plasco ID open today and simply email your cover letter and resume using the "Submit Resume" button below the job posting.
A Barcodes Inc. company, Plasco ID has more than 35 years in the identification industry. We sell and support ID card printing systems, software, cameras, technology cards, access control, and visitor management solutions, as well as related consumables to countless vertical markets. The combination of our products, services, technical expertise, and exceptional customer service has earned us the reputation of being the world's largest integrator of identification solutions. We have served over 100,000 customers in the United States and internationally, including government agencies and Fortune 500 companies. We are looking for new talent with big ambitions, so view our open careers at Plasco ID and join our growing team!
---
Mission & Vision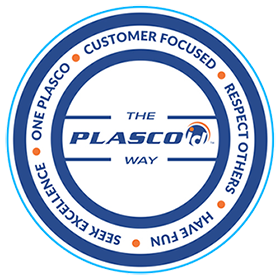 Our MISSION
We partner as one with our customers to provide the best solutions and support.
Our VISION
We will be the leader in providing our valued customers with seamless identity solutions to meet their unique needs.
Our VALUES
The Plasco ID Way
At Plasco ID, we partner as one with our customers to provide the best solutions and support. We demonstrate our core values in all we do:
Customer Focused: We make Customers the top priority
One Plasco: We work together for Customer success
Respect Others: We care about HOW we operate
Seek Excellence: We look for ways to improve
Have Fun: We have fun and do good work
---
Senior Account Manager – U.S. Distribution, located anywhere in the U.S.
Position Summary
The Sr Account Manager – Distribution will work as part of the Distribution Team (North America and Latin America) with the goal of retaining, growing, and acquiring Dealers in North America.
Essential Duties and Responsibilities:
Manage and grow profitable relationships with Dealers in North America.
Build strategies to acquire new Dealer relationships.
Partner with manufacturers to foster strong relationships and strategies to grow business in existing and new dealer accounts.
Achieve or exceed monthly and annual sales and gross profit quotas.
Develop strategies and work with Dealers to maximize their use of Trade ID platform to grow business and share of Dealer business.
Develop strong partnerships with key stakeholders in Operations, Sales Support, Accounts Receivable, IT, etc.
Demonstrate a professional, customer-centric approach during all customer interactions.
Learn and maintain in-depth knowledge of products and technologies, competitors, and industry trends.
Be a team player that contributes to making the business better– bring suggestions and recommendations forth to help the overall team.
Perform any and all other duties as assigned.
Ability to travel and meet with key customers and attend industry trade shows.
Qualifications:
Bachelor's degree from an accredited and reputable College or University preferred
Recent successful experience (2-5 years) in selling to existing and large customers
Knowledge and Skills:
Knowledge of Windows, Outlook, Word, Excel, and Social Media
Must be highly organized and analytical
Ability to understand customer requirements and identify potential Plasco ID/ID Wholesaler solutions to fulfill requirements
Must be highly motivated, tenacious, and a self-starter
Ability to work in a fast-paced, team environment
Requires effective oral and written communication skills, excellent interpersonal skills, and computer literacy
Work Environment:
The work environment characteristics described here are representative of those an employee encounters while performing the essential functions of the job. The environment includes work inside/outside the office and travel to other offices domestically. A high noise level is possible within the warehouse area.